Report: Unallocated Invoices
This is a great report /grid to show the Unallocated invoices synced from the Business System to
Forecast.Live
.
Within this report you can view the unallocated invoices and we provide Matches and Possible Matches column headings to help with reconciliation.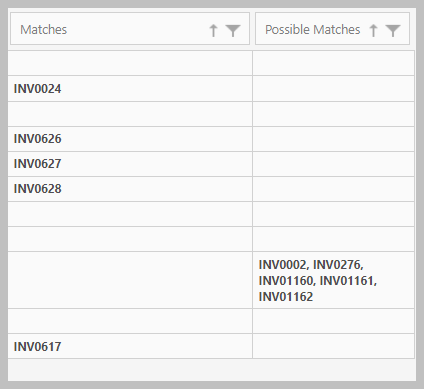 Right clicking on a column heading will show these options: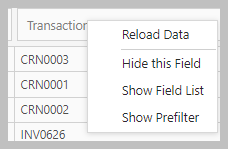 The options are self explantory aside from the Prefilter.

When choosing this option
Show Prefilter
, you can
create detailed, multi-step filter conditions INTO THIS GRID, using a simple, language-based control (as opposed to clunky symbol operators).
For example:

A User's company policy is that they have an AR person for each Customer group - User filters by Customer Group to analyse worker's workload and/or refer unallocated invoices to the correct staff.


User wants to target specifically high-value unallocated invoices so as to reconcile the greatest value in a day - User filters by amount > $10000
You can also export to PDF or Excel: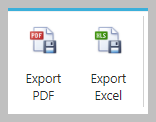 Need more information?

Related Articles

Report: Outstanding Invoices

This report shows a list of invoices that are Outstanding (not just Overdue) grouped by Customers' Groups and then by the Customers themselves. It shows a number of metrics at a per-invoice level, allowing for AR personnel and department heads to ...

Report: Invoices by Overdue

The Invoices by Overdue screen shows a summary of your outstanding customer invoices including: Customer Group Customer Name Trading Terms Average Days You can sort by clicking on the Arrow, or Filter by clicking on the Funnel: In terms of Days ...

Invoices Reminded Analytic Email

The Invoices Reminded email is designed to give a head-of-department for Accounts Receivable to track the workflow of the department You can use this, for example, to ensure that KPIs are being met and that customers are being notified at a ...

How do Credit payments against my Customers appear?

There's one of two ways that these payments can appear against the Customer: Case 1. The Payment is allocated against an Invoice in the Business System. When the payment is allocated, the payment amount is simply deducted from the Invoice. No ...

Custom Report Formats - An Overview

The Custom Report Format builder is where a user can set up Reports for the Monthly Forecasts. A Report is a hierarchy of ordered Categories, which can contain other categories and so on, and can also contain General Ledger accounts. Each of the ...