Invoices Reminded Analytic Email
The Invoices Reminded email is designed to give a head-of-department for Accounts Receivable to track the workflow of the department

You can use this, for example, to ensure that KPIs are being met and that customers are being notified at a reasonable pace.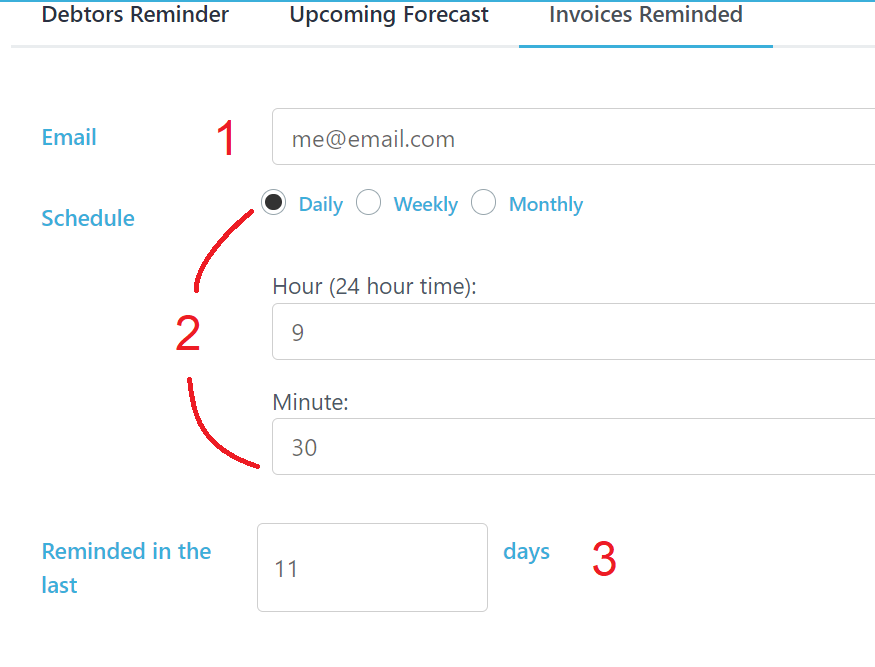 The address that will receive this email.

The frequency and schedule at which this report will be compiled and sent.

Include all invoices that have been sent a reminder through ANY Forecast.Live functionality in the last X Days.
Need more information?

Send us a ticket to Support@Plus.Live
Related Articles

Setup: Email Layout

The email layout is found under Amin/Setup/General The Email layout is for Customers and Partners to customise the layout of the email. Plus Software uses tools from Dev Express to save development time as there is no need to re-invent the wheel, so ...

Is it possible to email an Order to more than one person?

Yes, at the time of submitting the document Sales.Live will pop up the email screen. This screen will have a list of contact email addresses but if there are no contacts assigned to the Customer or the contact has a blank email address this will not ...

Report: Invoices by Overdue

The Invoices by Overdue screen shows a summary of your outstanding customer invoices including: Customer Group Customer Name Trading Terms Average Days You can sort by clicking on the Arrow, or Filter by clicking on the Funnel: In terms of Days ...

Report: Unallocated Invoices

This is a great report /grid to show the Unallocated invoices synced from the Business System to Forecast.Live. Within this report you can view the unallocated invoices and we provide Matches and Possible Matches column headings to help with ...

Report: Outstanding Invoices

This report shows a list of invoices that are Outstanding (not just Overdue) grouped by Customers' Groups and then by the Customers themselves. It shows a number of metrics at a per-invoice level, allowing for AR personnel and department heads to ...