Custom Report Formats - GL Accounts
When the report has all of the Categories you require, you're ready to start binding in the General Ledger (GL) Accounts.

To do this, check the GL's you'd like to bind to a Category, click the Category in the middle pane, and then click "Add".

The Accounts will be removed from the GL Account pane and be added to the Category pane. (This may take a few seconds).



Use the Search Bar to find specific account codes, names, or P&L groups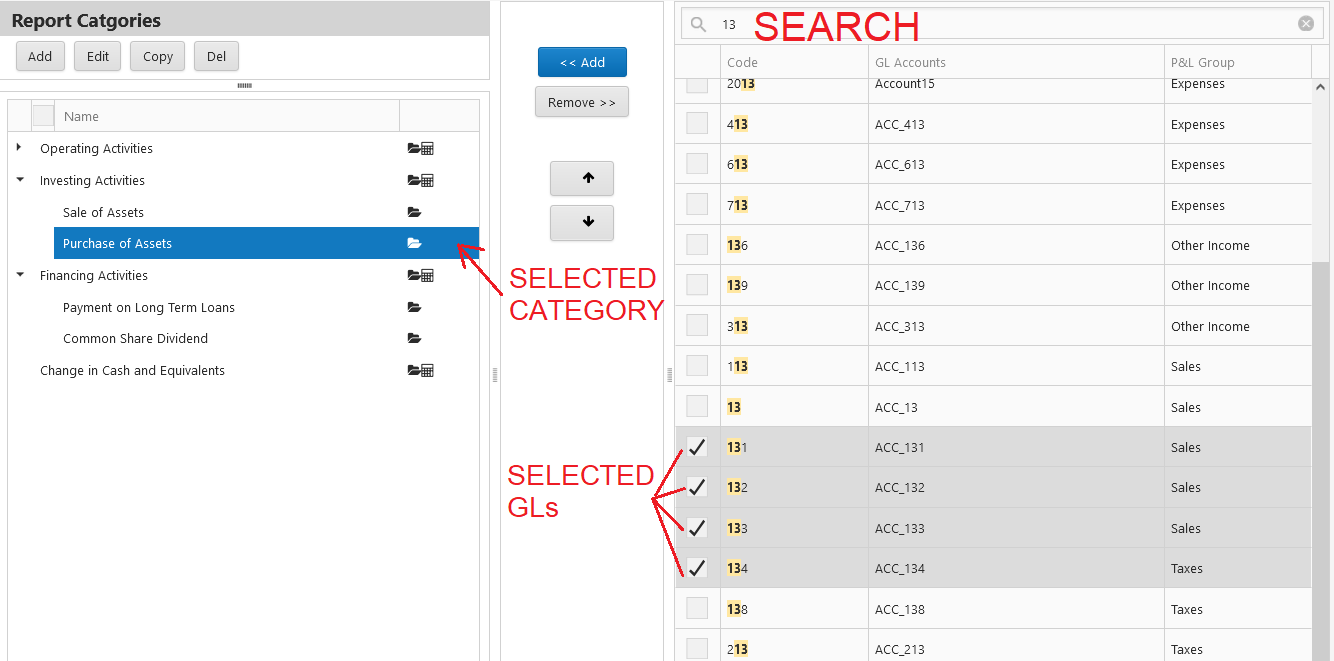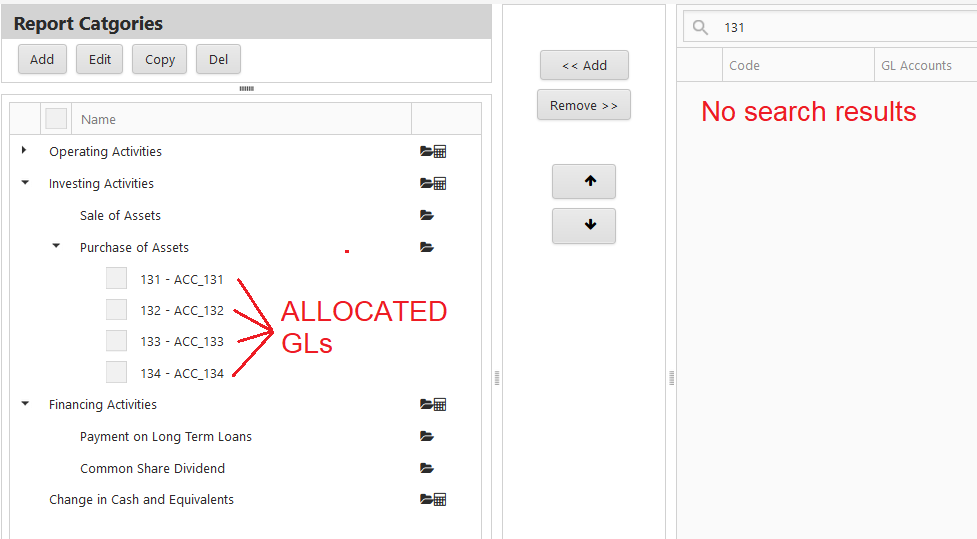 After
If you need to remove one or more GL Accounts, simply reverse this process - select the GLs from the Category pane, and click "Remove"

Congratulations, you're ready to start viewing your
Monthly Forecasts
using this report!
Need more information?

Related Articles

Custom Report Formats - Reports and Categories

New report formats can be created by clicking the Add button in the Custom Report Formats section. These reports can be fresh (with no categories) or use one of the Plus Software designed Templates which come with some categories pre-populated. Once ...

Custom Report Formats - An Overview

The Custom Report Format builder is where a user can set up Reports for the Monthly Forecasts. A Report is a hierarchy of ordered Categories, which can contain other categories and so on, and can also contain General Ledger accounts. Each of the ...

Setup - Business Central & Wiise Bank Accounts

Both Business Central and Wiise have an additional step to mapping Bank Accounts to the General Ledger accounts they represent. Navigate to Admin Menu -> Setup -> Bank Accounts For each Bank account we have found in your Business System, click Modify ...

Report: Outstanding Invoices

This report shows a list of invoices that are Outstanding (not just Overdue) grouped by Customers' Groups and then by the Customers themselves. It shows a number of metrics at a per-invoice level, allowing for AR personnel and department heads to ...

Report: Unallocated Invoices

This is a great report /grid to show the Unallocated invoices synced from the Business System to Forecast.Live. Within this report you can view the unallocated invoices and we provide Matches and Possible Matches column headings to help with ...