Our Cashflow Forecasting tool allows the user to make predictions on GL Accounts and Debtors Invoices via our Machine Learning (ML) Algorithms.


Note: When using any Machine Learning functionality, these models represent only our Best Estimate based on your data.

No machine learning computation can be taken as a guarantee of what will happen in reality.

General Ledger Accounts
The General Ledger Account Machine Learning looks for two things to determine if a pattern exists:

Is the pattern regular in Time (approx. the same days between payments)?

Is the pattern regular in Amount (approx. same movement to/from account)?

To fill a GL Row (with one or more GL Accounts), right click the Row Header, and select Fill from ML.

If the above criteria are met, the row will populate with the predicted values, otherwise an error will appear notifying the user that a model could not be created.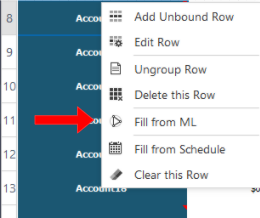 The General Ledger Machine Learning also shows what we call the ML Health metric - a measure of how close to accurate we judge the algorithm to be.

This metric colours the ML-generated cells based on the accuracy - Green being a very good estimate, gradiating to Orange as a less good estimate.


Note: An orange cell is not 'bad' predictions, as 'bad' data would result in no ML prediction being made at all.
Debtors Transactions

The Debtors transactions Machine Learning looks at each customer's payment patterns over a range of invoice values, and looks for a pattern in these payments.


This pattern can be applied to the Debtors Invoices in your cashflow forecast by right-clicking the "Debtors Transactions" cell and clicking "Adjust Using ML"



The Debtor Invoices are then moved to the date that the algorithm assesses that the invoice will be paid, and can be adjusted manually if need be.


You can also restore invoices to "pre-ML" by right clicking and choosing Restore Invoices to Due Date.



Note: Invoices created or synced into Forecast.Live after this button is clicked will not have Machine Learning applied to them - we recommend re-applying Machine Learning to the Debtors row every day or two to have the most up to date information.

Need more information?