Additional Tools for the Send All Reminders Page
The grid view you can see on the Send All Reminders page is dynamic and allows you to get a better view, or plan your Accounts Receivable strategy for the day.


Columns can be clicked to sort the grid by that column in either Ascending or Descending mode, and multiple filters can simultaneously run to better target Customers.

Here's a visual with 1-4 (in red) showing some key elements: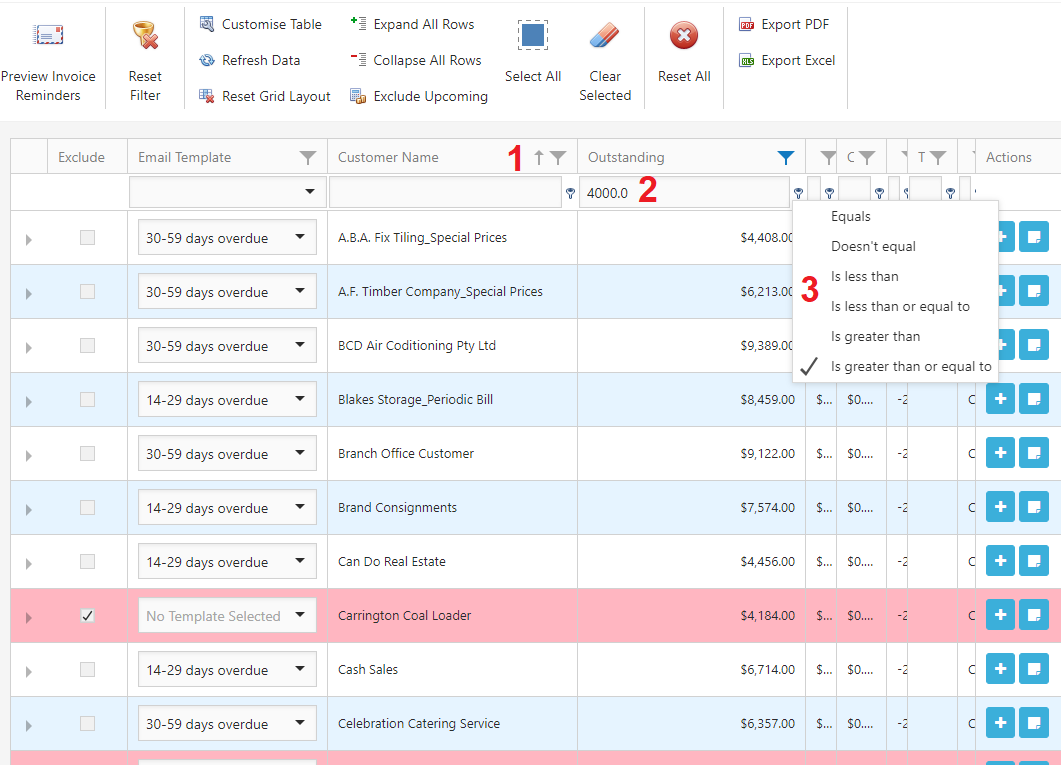 1 - Sort Order Indicator

2 - Filter Conditional

3 - Filter Settings

All of the above combine to show Customers with an outstanding Amount >= $4000, shown in alphabetical order.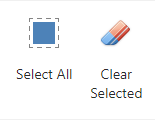 You can also use the Select All or Clear Selected buttons to Select or De-Select all Customers in the current view.


Remember: Selected items on the Send All Reminder page are EXCLUDED from sending.
Need more help?

Related Articles

Introduction to Send ALL Reminders

The Send All Reminders menu allows the User to send Reminders to ALL (overdue) Customers. Note that this menu item Send All Reminders is for sending Reminders to OVERDUE CUSTOMERS only, not all Customers. We have given you one Scenario to follow: ...

Introduction to Send Select Reminders

The Send Select Reminders menu allows the User to send Reminders to select individuals or groups of Customers who need reminding. These Customers could also be upcoming "for payment." Note: by default, this screen will send NO reminders - you must ...

Account Forecasts Page

The Account Forecasts page is designed to give the user insights into the transaction history and Machine Learning model generated for each General Ledger Account. The Past data trend is what we use to determine if a pattern exists, and how it should ...

Scenario: Send Reminder to MOST overdue

So you want to remind your most overdue (outstanding) Customers that they need to pay you? Click on Send Select Reminders: Choose Filter: Choose 60 Days + overdue: Choose Select All: The selected invoices now appear in Green. Choose Preview Invoice ...

Scenario: Send Reminder to ALL overdue immediately

It's easy to send quick reminders to all your overdue Customers. IMPORTANT: The option to Send All Reminders assumes you want to send reminders to all (or most) Customers who have overdue invoices. You must select those customers who are not to ...